[fusion_builder_container backgroundcolor="" backgroundimage="http://www.lecapresi.it/wp-content/uploads/2013/05/gemme.jpg" backgroundrepeat="no-repeat" backgroundposition="top center" backgroundattachment="scroll" bordersize="0px" bordercolor="" paddingTop="10px" paddingBottom="30px"][fusion_builder_row] [fusion_builder_column type="1_2″ last="no"]
Handmade Sandals, each creation is Unique and Precious
[fusion_separator top="40″ style="single"/]The brand was founded in 2008 thanks to the amazing love and passion story of the eclectic Neapolitan designer Rory De Angelis for the island of Capri and "dolce vita".
Ex model, Rory has always been keen about fashion. She expresses her creative talent in revisiting the famous glamorous "Caprese" sandal, so much loved all around the world, by international Jet set and divas like Soraya, Maria Callas and the unforgettable Jacqueline Kennedy.
Classic and elegant collections, precious materials such as Swarovski crystals, corals, turquoise, freshwater pearls, precious stones: a blend of perfection, luxury and research. Handmade sandals and finely worked by artisans from Capri, all creations are unique and precious.
Since 2011 the brand Le Capresi also produces moccasins and loafers, combining sophisticated, glamorous and trendy forms with precious and refined decorations. Le Capresi are synonym for style, exclusivity and excellence and are appreciated on an international level.[/fusion_builder_column] [fusion_builder_column type="1_2″ last="yes"] [fusion_imageframe lightbox="no" style="border" bordercolor="#ededed" bordersize="10px" stylecolor="" align="center" animation_type="0″ animation_direction="down" animation_speed=""]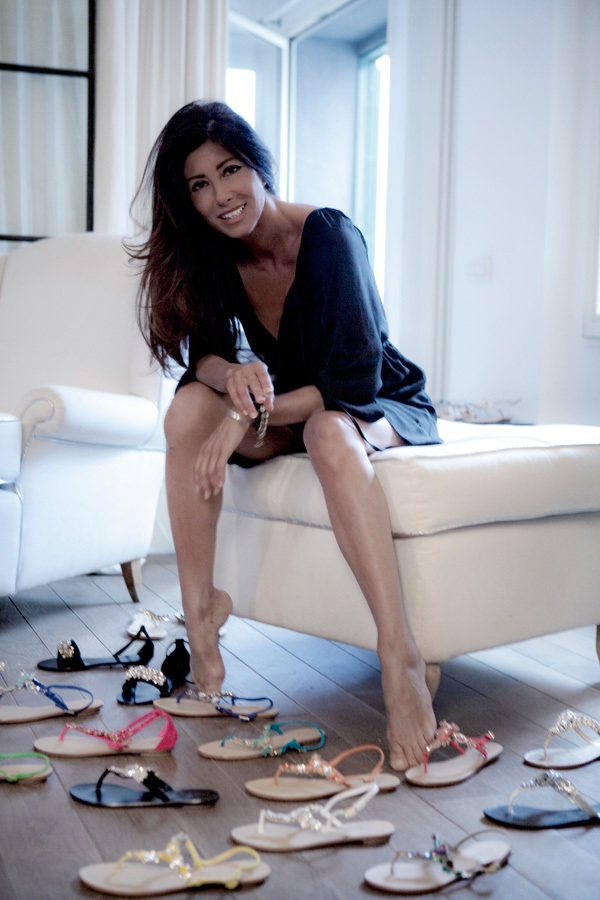 [/fusion_imageframe] [/fusion_builder_column] [/fusion_builder_row][/fusion_builder_container]
[fusion_builder_container backgroundcolor="" backgroundimage="http://www.lecapresi.it/wp-content/uploads/2013/11/roryB6-small.jpg" backgroundrepeat="no-repeat" backgroundposition="top left" backgroundattachment="fixed" bordersize="1px" bordercolor="#dadada" paddingTop="70px" paddingBottom="40px"][fusion_builder_row]
But what is the sandal for Rory De Angelis?
… It 'a passion, a jewel.
[fusion_builder_column type="1_1″ background_position="left top" background_color="" border_size="" border_color="" border_style="solid" spacing="yes" background_image="" background_repeat="no-repeat" padding="" margin_top="0px" margin_bottom="0px" class="" id="" animation_type="" animation_speed="0.3″ animation_direction="left" hide_on_mobile="no" center_content="no" min_height="none"][fusion_separator top="60″ style="none"/][/fusion_builder_column][/fusion_builder_row][/fusion_builder_container]
[fusion_builder_container hundred_percent="yes" overflow="visible" margin_top="-35″ margin_bottom="" background_color="rgba(255,255,255,0)" padding_right="30px" padding_left="30px" ][fusion_builder_row][fusion_builder_column type="1_1″ background_position="left top" background_color="" border_size="" border_color="" border_style="solid" spacing="yes" background_image="" background_repeat="no-repeat" padding="" margin_top="0px" margin_bottom="0px" class="" id="" animation_type="" animation_speed="0.3″ animation_direction="left" hide_on_mobile="no" center_content="no" min_height="none"][fusion_separator style="none"/][/fusion_builder_column][/fusion_builder_row][/fusion_builder_container]